Last updated June 29, 2022.
Message from the Dean 
Greetings from the Wilmington (North Carolina) Chapter! Founded in 1989, the Wilmington Chapter currently has a growing membership. While the majority of its members live in the greater Wilmington area, the chapter spans a large geographic area that includes southeastern North Carolina and portions of eastern North Carolina and northeastern South Carolina. The Chapter meets monthly September through June. Each meeting includes a program which often is a concert performed by chapter members for the community, a lecture on a topic of interest or a guest artist recital. Many meetings feature a catered meal. The Wilmington chapter prides itself on presenting many concerts and events for the greater community. Many years, chapter members present a Hymn Festival for the Church Year, and a members' organ recital. In past years, chapter members have also formed the AGO Chamber Choir which performs a concert of the works of a major composer  with chamber orchestra.  Historic Wilmington, North Carolina, is located on the Southeastern coast of North Carolina and is home to many fine pipe organs. Builders represented include Austin, Bozeman, Casavant, Estey, Goulding & Wood, Noack, Pilcher, Schantz, E. M. Skinner, Taylor and Boody, and Visser-Rowland. For more information on the Wilmington Chapter, please contact Greg Gore, Dean, at Email.
Newsletter
Greetings from the Dean
Hello!
 
I hope this newsletter finds you well and having a great start to the summer season!  It's hard to believe the July 4th holiday is just days away!  I hope you have a great one!

Many thanks to those of you who attended Jan Kraybill's concert, which was wonderful and well-attended!  We even had a few members from the Grand Strand Chapter in attendance.  Jan is such a delightful person and enjoyed visiting Wilmington and playing the mighty Skinner at First Presbyterian.  She was gracious and flexible with multiple weddings at the church and even played for the Sunday morning service due to a last-minute emergency!  It was definitely a memorable week-end! 

Following the concert, several of us dined with Jan at The Pilot House.  I was pleasantly surprised to be presented with a Past Dean's Pin!  Thank you so much!  I will wear it proudly!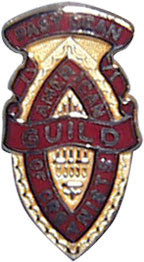 We had a great planning meeting a few weeks ago followed by an enjoyable social time by the pool!  The weather was great as was the company and the food!  Thanks to Sherman and Martha Hayes for hosting!  Thanks also to those who attended and/or submitted ideas!  We will meet later in July to finalize plans for 2022-2023.  It looks to be an exciting year with varied programs!

And finally, as the song goes, it's "time to say good-bye", at least as your Dean.  Allow me to take a trip down memory lane! I was asked about being nominated in December 2018, around the time of my father's cancer diagnosis.  Little did I know that he would pass in a matter of weeks.  And so the committee was gracious in allowing me a few months to decide if I would accept the nomination.  Although I had served on the board for many years in various roles, I had never been Dean and was reluctant to say yes!  Being a charter member of the chapter, which is near and dear to my heart, I eventually accepted the nomination and was elected! Thank you!  And once again, little did I know the challenges that we would all soon face! 

We almost made it through my first program year before COVID-19 arrived on our doorsteps in March 2020!  April and May programs had to be cancelled and all meetings were moved online.  Thanks to our members who presented many of our programs, we were able to plan a full year of online programming for 2020-2021!  And thanks to member Justin Smith for setting up all those zoom meetings!  I was also impressed and grateful that our membership numbers remained nearly constant!  While many arts organizations were losing money, we were actually saving money since we were spending very little on programs, thanks to you, our members!  And thus goes my second year as Dean.  Oh, and thank you for electing me once again!

In hopes that the pandemic would be coming to an end, and thinking that life would return to normal and we would have a more regular year of programs, I was asked to serve a third term and elected again….thank you!  Our 2021-2022 programs were planned and all was looking good.  Just as we were planning to resume meetings in September, the Omicron variant arrived at the very same time!  And thus began a year of deciding how to meet, if we should meet in-person with meals or not, and moving with the ebb and flow of COVID!  And once again you all remained flexible and adapted to the changing needs of our program formats.  Thankfully, we were able to end the year with in-person meetings and our membership numbers continue to hold steady!

In some ways it seems like a very long three years and then again it seems like the time has flown by.  Many thanks to those who have served on the board with me these past three years!  I couldn't have survived without you!  Also, many thanks to our two previous Deans, Sara Bryant and Justin Smith for your helpful guidance, answering my many questions, and calming my worries!  (Justin was District Convener my first 2 years as Dean and offered helpful insights about chapter activities across the state during COVID.) And finally, thanks to all of you, our members, for your support!  Please continue to be involved and support our wonderful chapter which I hope will thrive for many years to come!  Thanks a million to our out-going board members and a huge welcome and thank you to our new board members and Dean Nancy Novelly!  I am excited about your vision and leadership over the next two years!  I will miss being Dean, but look forward to rotating off the board after nearly ten years…I think!!

Enjoy the rest of your summer and I look forward to seeing you at next year's programs and events, if not sooner!
With much gratitude,
Greg
---
There are currently 17 members who have not renewed their memberships, many with a July 1 renewal date!  Please take a few minutes to renew online here or you can call the national office with a credit card, 212-870-2310.  Losing 17 members would have a huge impact on the chapter and we would really miss you, a lot!
---
A NOTE FROM YOUR TREASURER:
Those of you who are on the traditional July-June membership year received your renewal notice recently from AGO Headquarters.  Please make it a priority to renew your membership in the month of May.  Early renewals allow your board to make plans for the next program year and gives us time to notice and correct any membership issues early.  If you are on the July-June cycle and did not receive this renewal email, please let me know at cjs@alumni.wfu.edu.  Please also remember to review your contact information and employer information and make any changes as necessary.  The information you include when you renew in ONCARD is the information that we use for the annual directory/Yearbook.
---
    Beautifully appointed tables at the Summer Social!
---
             

  Social time after the planning meeting!
---
Lenoir-Rhyne University presents a Religious Arts Festival at Lutheran Theological Southern Seminary, Columbia, South Carolina.  Click 
here
 for more information.
---
Year of the Young Organist Resources 
Click
 here
to visit the Young Organist webpage. 
The QR code below will take you directly to the registration page for the young organist or you can click here.

Click here to visit the webpage for webinars that have been recorded in recent months.
The chapter with the most new young organists will win $1000 at the end of the recruitment year!  There will be prizes for small, medium, and large chapters.
---
The chapter has a Facebook group page!  Please join if you haven't done so already.  If you have a Facebook account, you can join the group by clicking here.
---
There are many great resources for learning and inspiration on the AGO national website.  Click here for upcoming webinars.  Past webinars are on the same page.  The list of offerings continues to grow!
---
Chapter Events 2022-2023
Coming Soon!
---
Local Events
Click on the following links for the most current concert information!
Beckwith Recital Hall, UNCW: http://uncw.edu/music/events/events-calendar.html
Wilson Center, CFCC: https://wilsoncentertickets.com/ 
Kenan Auditorium, UNCW: https://uncw.edu/arts/presents/ 
Kenan Chapel, Landfall: http://kenanchapel.com/calendar
Thalian Hall: https://www.thalianhall.org/calendar
Church Concerts
First Presbyterian: http://www.firstonthird.org/music/music-at-first/
St. Andrews-Covenant Presbyterian: https://musiconmarket.org/upcoming-performances/
St. Paul's Episcopal Church: https://spechurch.com/concerts-at-st-pauls/
Membership
Membership in the Wilmington AGO is open to all who possess a love of organ and choral music. For more information on becoming a member, please contact Justin Smith, Treasurer, at email.  You may also join online by visiting https://www.agohq.org/oncard-login/.
Placement
St. Paul's Episcopal Church
Greenville, NC
St. Paul's Episcopal Church, Greenville, NC is seeking an Organist/Choirmaster.  Click 
here 
for more information.
---
Woodburn Presbyterian Church
in Leland is seeking a Music Director/Accompanist.  Responsibilities include a mid-week choir rehearsal and one Sunday service with hopes of expanding the music ministry.  This is a new paid position.  For more information, please contact:
Rev. Scott Bunting
scottwbunting@gmail.com
910-269-1442
---
St. Paul's Episcopal Church in Beaufort, NC seeks an organist and director of music. We are located in the historic district of Beaufort, a quaint seaside town adjacent to Morehead City. Our music program includes an accomplished volunteer choir with professional soloists and section leaders from the community, a youth choir, and a handbell choir. The sanctuary has a three-manual, Allen Quantum Renaissance digital organ.
The music director will provide organ, choral, and occasional instrumental music for one Sunday service per week, and special services of the church.
The position is part-time with growth potential. Please contact Allison DuBuisson, adubuisson123@gmail.com, for more information.
---
First Church of Christ, Scientist
Wilmington, NC
First Church of Christ, Scientist (17th & Chestnut) in Wilmington is seeking an organist or pianist for two services a week – Sundays at 10 a.m. and Wednesdays at 7:30 p.m.   We are a small but friendly congregation. 
The organ is a 2-manual Rodgers 548 digital organ.  There is also a piano in the sanctuary that can be used when more appropriate for solo accompaniment or when otherwise necessary.
The music requirements for a Christian Science service (one hour) are as follows:
·         Sunday:  Prelude of the organist's choosing (about 7 minutes); 3 hymns; accompaniment for a vocal solo; a short offertory; a postlude (5-6 minutes).  There is no choir.
·         Wednesday:  Same as Sunday, except no vocal accompaniment or offertory
There is an additional service on Thanksgiving Day each year, with a format similar to the Sunday service.
Our regular soloist at this time is an experienced musician.  Practice with the soloist is at the convenience of the two individuals.  Familiarity with the hymns will require some practice outside of the services, especially if the organist has no initial experience with them.  The organist is expected to arrive no later than 30 minutes before the services, more if practice time is needed.
Hymns are chosen weekly by a lay reader and provided to the musicians at least two days in advance.  Solos are chosen by a church member for a month at a time and provided about two weeks before the first Sunday of the upcoming month. The soloist and organist can provide feedback if music is problematic.  The musicians will have access to the church outside of services.
For an organist not looking for the responsibilities of multiple services, choir and weddings, etc.  this would be a good fit.  Ideally the same person would be available for both weekly services, but finding a Sunday musician is the first priority.  Overall the expected time requirements per week, including two services and practice time, should be in the range of 5-8 hours.  Salary is negotiable depending on the experience and expertise of the organist.
If interested, please contact Fred Emerson at 910-617-6786 or 
emersonc@earthlink.net
 and leave a message if necessary.  We look forward to hearing from you.
---
Pine Valley Baptist Church 
Wilmington, NC
The church is looking for a part-time organist to play for Sunday morning services at 10:30 AM  The salary is approximately $8,000 and the organ is a Rodgers T927.
Contact:
Scott York
---
St. Luke's Episcopal Church
Salisbury, NC
DIRECTOR OF MUSIC MINISTRY
THE CANDIDATE WE SEEK:
• A positive and professional individual who is passionate about promoting the joy and gift of Church music.
QUALIFICATIONS:
• Have at least a bachelor's degree.
• Be proficient in playing the organ, directing choral music, directing handbells, and managing a church music program.
• All qualified candidates, regardless of gender, sexual orientation, race, age, or disability, will receive equal consideration.
PRIMARY RESPONSIBILITY:
• Provide liturgically appropriate music for the liturgies of the church as a part of our overall pursuit of worship of God, the formation of disciples of Jesus Christ, and the growing vitality of the parish.
DUTIES:
• Oversee and direct:
o Adult Choir
o Handbell Choir
o Monthly Choral Evensong
o Children's Choir
• Serve as organist for all liturgies (Sundays, as well as Principal and Major feasts, some of which may fall on weekdays or secular holidays), including funerals and weddings (additional compensation provided by honoraria for pastoral liturgies)
• Work with Rector to choose music for all liturgies
AN IDEAL DIRECTOR OF MUSIC MINISTRY WOULD:
• Have an understanding and appreciation of the breadth of the Anglican musical traditionand for the variety of musical styles found within hymnals of our tradition (Hymnal 1982; Ancient & Modern; Lift Every Voice and Sing; Wonder, Love, and Praise). This range includes hymns, chants, and spirituals, music both old and new.
• Foster increased music literacy and appreciation with all members of the parish.
• Recruit new choir members and help to reinvigorate the adult choir program as we come out of the pandemic.
• Support singers in achieving their highest potentials so that they can more confidentially offer their praises to God.
• Use church music to support the parish's identity by promoting abundant grace, intentional worship, and beloved community.
• Guide the music program in being a part of the parish's growth and vitality in the years to come with music that meets the needs of the congregation.
• Be an effective pastor to those involved in the music programs.
• Establish our children's choirs as fun and robust offering not only to the parish, but the wider community.
• Have a strong collegial relationship with our clergy and be an integrated part of the parish.
• Foster collegiality and collaborative musical efforts among downtown churches.
• Know their limitations and seek out support as needed to accomplish these goals.
COMPENSATION:
• This is full-time position with an annual compensation between $48,000 and $52,500 depending on experience and qualifications.
• Health, dental, and vision insurance for the employee with premiums paid fully by St. Luke's
• Four weeks of paid vacation (including 4 Sundays) per year
• One week of paid continuing education time (including 1 Sunday) per year
• Standard FICA contributions
• Pension contribution of 9% of salary
• Allowance for continuing education, as available in the parish budget
• Signing bonus of $2,500 to be used toward the relocation to Salisbury
ABOUT ST. LUKE'S:
• St. Luke's is a Eucharistically-centered parish located in downtown Salisbury. Our understanding of our identity is to be a place for all to come and see the difference that Christ makes through abundant grace, beloved community, and intentional worship. We are a historic parish, founded in 1753. Music has always been an integral part of the life of the parish. We currently average 16 singers in the adult choir, 10 members of the Evensong choir, 12 handbell ringers, and 15 in the children's choir. Our beautiful worship space was built in 1828 and provides the setting for spiritually deep liturgies. Our organ was installed in November 2015 and was built by Walker Technical Company. The voicing of this instrument comes from samples of the best Æolian-Skinner instruments. It is a four-manual instrument with six divisions including the equivalent of 75 ranks (3 ranks of traditional pipes are also present in the organ – full stop list available at www.SLS.church/music). Theparish is excited about this next step in our music program and looks forward to receiving a musician who will help us to sing praises and make a joyful noise unto the Lord.
ABOUT SALISBURY:
• The City of Salisbury has a population 34,000 and was established in 1753. Salisbury serves as the county seat of Rowan County, North Carolina. We have a strong arts community that features two theaters, a children's theater, a visual arts center, public sculptures, and a symphony orchestra. Salisbury is also home to Rowan-Cabarrus Community College, Livingstone College, Catawba College, and Hood Theological seminary. Downtown
Salisbury is in the midst of a revitalization project that has been much aided by the recently opened center-city park. We are located centrally among the larger metro areas of Charlotte, Winston-Salem, and Greensboro, all of which are about 45 miles from St. Luke's. Our community is home to several growing industries, yet it maintains an affordable cost of living when compared to the nearby metro regions.
APPLYING:
• Applicants should send a résumé and cover letter to:
The Rev. Robert Black
rblack@SLS.church
• The expected start date for this position is February-March 2022. We will be considering applications as they are received and will begin initial conversations with candidates as early as December.
• Questions can also be directed to the above email address.
---
Director of Music
Immaculate Conception Catholic Church
Hours per week: 40 hours/week (includes full diocesan benefits)
Key responsibilities / day-to-day job functions
Responsibilities would encompass the formation of all liturgical ministers and parish musicians.
In addition, the Director works in relationship with other staff members to support the community to live out the parish vision and mission statements.
Minimum Requirements
Employment is contingent upon applicant satisfactorily passing criminal background and reference checks
Completing Safe Environment Training within 60 days of hire
Minimum level of Education: Possess an undergraduate degree in music, liturgy, or related field
Minimum amount of Work Experience

Years of related work experience  3 to 5 years
Area of related work experience: Experience with Catholic liturgy
Preferred Qualifications
The ideal candidate will be a practicing Catholic in good standing
Skills as an accompanist on the piano and organ
Possess organizational, pastoral, computer, communication, motivational and people skills
Supervises: In collaboration with the Pastor, the Director of Music provides direction and supervision of all parish liturgical celebrations.
————————————————————–
St. James the Fisherman Episcopal Church,
Shallotte, NC 
Director of Music/Organist
The Director of Music / Organist coordinates the total music program of St. James the Fisherman in a manner that enhances the spirit of worship and assists the congregation in living out their faith and vision. The Director of Music reports to the Rector and is a key staff member in developing the program of the church.
SPECIFIC RESPONSIBILITIES
Coordinate the music program
Selects service music and hymns, as well as choral and instrumental pieces, for worship services in consultation with the Rector. This music includes a variety of traditions, although primarily focused on music suitable to the Episcopal tradition and the diverse culture of St. James the Fisherman. Music is provided at each Sunday morning worship as well as Christmas, Lessons & Carols, Advent and Easter services. Assistance in selecting music for other services (weddings, funerals, etc.) may also be needed.
Coordinates instrumental music to support the ministry of St. James the Fisherman. Recruits and manages musicians in coordination with the Rector including organ/piano music as well as periodic guest instrumentalists at the primary worship service, as well as other occasions, such as special services, weddings, and funerals, as requested.
Develops an annual budget for the music program of the church and administers that budget when approved.
Establishes objectives annually for music program in coordination with larger vision of the church. Reports periodically on progress toward attaining objectives.
Administers and cares for music library, instruments, and other materials related to the music programs of the church.
Directs the Choir
Manages the choir. Directs the choir in rehearsal and worship services.  Promotes growth and stability of the choir.  Facilitates the spiritual life and practices of the choir.
Develops music skills of choir and congregation through rehearsal, coaching, workshops, etc. Actively works to encourage people to participate in music of the congregation.
Skills required
Excellent music skills
Experience and training in choir directing and vocal skills
Excellent keyboard skills, particularly organ
Experience working with music in a church setting
Knowledge and appreciation of Anglican music and liturgical practices
Working knowledge of electronic/sound/ recording equipment is desirable
Ability to work collaboratively with church staff and musicians
Organized with shown ability to manage schedules and budgets
Experience growing a music program is ideal
Creativity and energy for new ideas and ways to meet community needs
 Hours worked
10-12 hours per week including Sunday morning 9:15 AM-11 AM, Wednesday evening rehearsals 7-9 PM and staff meetings as needed.
Compensation
Negotiable consistent with experience and music budget. There are no other benefits associated with this position. 
Contact Administrative Assistant David Brownfield for additional information at stjames@stjamesthefisherman.net or call the church at 910-754-9313.
————————————————————–
Organist (alternating Sundays), St. Mary Episcopal-Lutheran Church
Burgaw, NC
St. Mary's Episcopal-Lutheran in Burgaw is in need of a part-time organist to alternate with current organist. Pay is $125 per Sunday. One service at 11:00. Contact number is (910)604-1165.
Thank you,
Jennings Trawick
---
Certification
For more information about certification, please visit http://www.agohq.org/certification or contact the Dean at Email.
Contact Us
Dean: Gregory Gore Email
Subdean and Program Coordinator: John Sullivan – Email
Secretary: Nancy Novelly – Email
Treasurer and Membership Coordinator: Justin Smith – Email
Member at Large: Jerry Cribbs – Email
Member at Large: Martha Hayes – Email
Member at Large: Mark Hellmann – Email
Links
AGO Southeast Region Facebook Page: https://www.facebook.com/pg/AGOSoutheast
AGO National Headquarters: http://www.agohq.org
Music at First: http://www.firstonthird.org/music/music-at-first/
Music Events at UNCW: https://events.uncw.edu/MasterCalendar/MasterCalendar.aspx
Wilmington Symphony Orchestra: http://wilmingtonsymphony.org/