Last updated October 5, 2020.
Message from the Dean 
Greetings from the Wilmington (North Carolina) Chapter! Founded in 1989, the Wilmington Chapter currently has a growing membership. While the majority of its members live in the greater Wilmington area, the chapter spans a large geographic area that includes southeastern North Carolina and portions of eastern North Carolina and northeastern South Carolina. The Chapter meets monthly September through June. Each meeting includes a program which often is a concert performed by chapter members for the community, a lecture on a topic of interest or a guest artist recital. Many meetings feature a catered meal. The Wilmington chapter prides itself on presenting many concerts and events for the greater community. Many years, chapter members present a Hymn Festival for the Church Year, and a members' organ recital. In past years, chapter members have also formed the AGO Chamber Choir which performs a concert of the works of a major composer  with chamber orchestra.  Historic Wilmington, North Carolina, is located on the Southeastern coast of North Carolina and is home to many fine pipe organs. Builders represented include Austin, Bozeman, Casavant, Estey, Goulding & Wood, Noack, Pilcher, Schantz, E. M. Skinner, Taylor and Boody, and Visser-Rowland. For more information on the Wilmington Chapter, please contact Greg Gore, Dean, at Email.
Newsletter
Greetings from the Dean
Hello!
I hope you are enjoying these crisp, cool days of early October.  And as always, I hope you are learning to live with this pandemic in a positive way and stay healthy in the process.  I think COVID is going to be around for months to come, unfortunately.  There are many COVID resources on the national AGO website.  You can find them here: https://www.agohq.org/responding-to-covid-19/
There is a Q/A session for Covid-19 and organists here: https://www.agohq.org/covid-19-and-organists-q-a/
On a happier note, we had twelve people on our first zoom meeting in September!  It was great to see all of you!  Many thanks to Dr. Joe Hickman for presenting the program.  You should have received his handouts in a separate email.  If you didn't receive these, let me know.
Our next meeting is coming up very soon on October 11, 7:00 PM, via zoom.  If you haven't used the zoom platform, there's no time like the present!  If you need help, please let me know. I will send a reminder email with the link to join the meeting on the Friday prior.  Our presenter will be Roberta Rowland-Raybold, Dean of the Grand Strand AGO Chapter. You can read more about Roberta below.  She has this to say about her presentation:
"Do you ever wonder if you might like to compose music that others might use?  Roberta Rowland-Raybold, CAGO,  Dean of the Grand Strand AGO Chapter and Organist/Director of Music at St. Stephen's Episcopal Church in North Myrtle Beach, SC, will share her ideas with us.  She divides the process into three parts: improvising, composing and publishing."
"Roberta's publishing adventure began with the late Dr. Donald Busarow at Wittenberg University.  She will share humorous aspects of that experience. Her presentation will cover the road heading up to the "how to" of composing good music and the process of finding an outlet for your creation.  The COVID-19 situation is both a blessing and a challenge.  Don't miss this creative and informational event."
The member directory is in the final stages of editing and will be sent in PDF format in a separate email.  We are going with a digital version this year.  Compiling the directory booklet is labor intensive and requires working closely with other people indoors so it was decided this would be a safer alternative during these times of COVID.  It can also be easily stored on your personal devices.
Remember, there are many resources for at-home learning and inspiration on the AGO national website.  Click here for upcoming webinars,  https://www.agohq.org/upcoming-ago-webinars/ , or here for past webinars:  https://www.agohq.org/ago-webinars-and-supporting-documents/
Be well!
Greg
Roberta Rowland-Raybold Biography
Roberta Rowland-Raybold began her piano study at age four followed by an introduction to the organ at age six, encouraged by her father, a pipe organ builder.  She was the youngest charter member of the Westchester County, New York, Chapter of the American Guild of Organists and has served as AGO Chapter Dean and District Convener in Pennsylvania and in New York State.  Roberta has studied organ with Trudy Faber, Judy Congdon and Donald Busarow and improvisation with Donald Busarow and Gerre Hancock.
Roberta spent twenty-five years in the insurance industry, during which time she served as Director of Music at University Baptist Church in State College, Pennsylvania.  She has also held positions in Episcopal, Presbyterian and Lutheran churches throughout her career.  She has served as an instructor for Hartwick Seminary Summer Institute of Theology at Hartwick College, Oneonta, NY, where she also directed the Institute Choir.
A Magna cum laude graduate of Wittenberg University in Springfield, Ohio, she majored in sacred music, organ performance and composition.  While at Wittenberg, Roberta was on staff of the Center for Musical Development where she taught piano and organ.  She continued graduate studies at Eastman School of Music, Rochester, New York and the Greatbatch School of Music at Houghton College, also in New York.  In 2012 she was awarded an alumni citation from Wittenberg University for outstanding achievement in the field of sacred music.  Roberta is listed in "Who's Who in American Women."
Her published works include "Winter Solstice" (organ settings for Advent – Epiphany), "Summer Solstice" (organ settings for Pentecost and Trinity),  "All Praise for Music" (hymn settings for piano), and "Road to Resurrection" (Lent and Easter) with Augsburg Fortress Publishing Co.  She was commissioned to compose a pastorale on the hymntune "Promise" for Augsburg's forthcoming Easter collection in Augsburg Organ Library.  She has published "The Beatitudes, Organ Reflections on the Blessings of Jesus" and a number of single pieces with Lorenz Publishing Co. Forthcoming organ collections include "Fruits of the Spirit" and "Spirituals from the Heart."   Her hymns include the hymn tune "Cooperstown" written with hymn writer, Brian Wren, and is held by Hope Publishing Company.
Roberta is currently Organist/Director of Music at St. Stephen's Episcopal Church in North Myrtle Beach.  She is the Dean of the Grand Strand Chapter of the American Guild of Organists and teaches organ privately.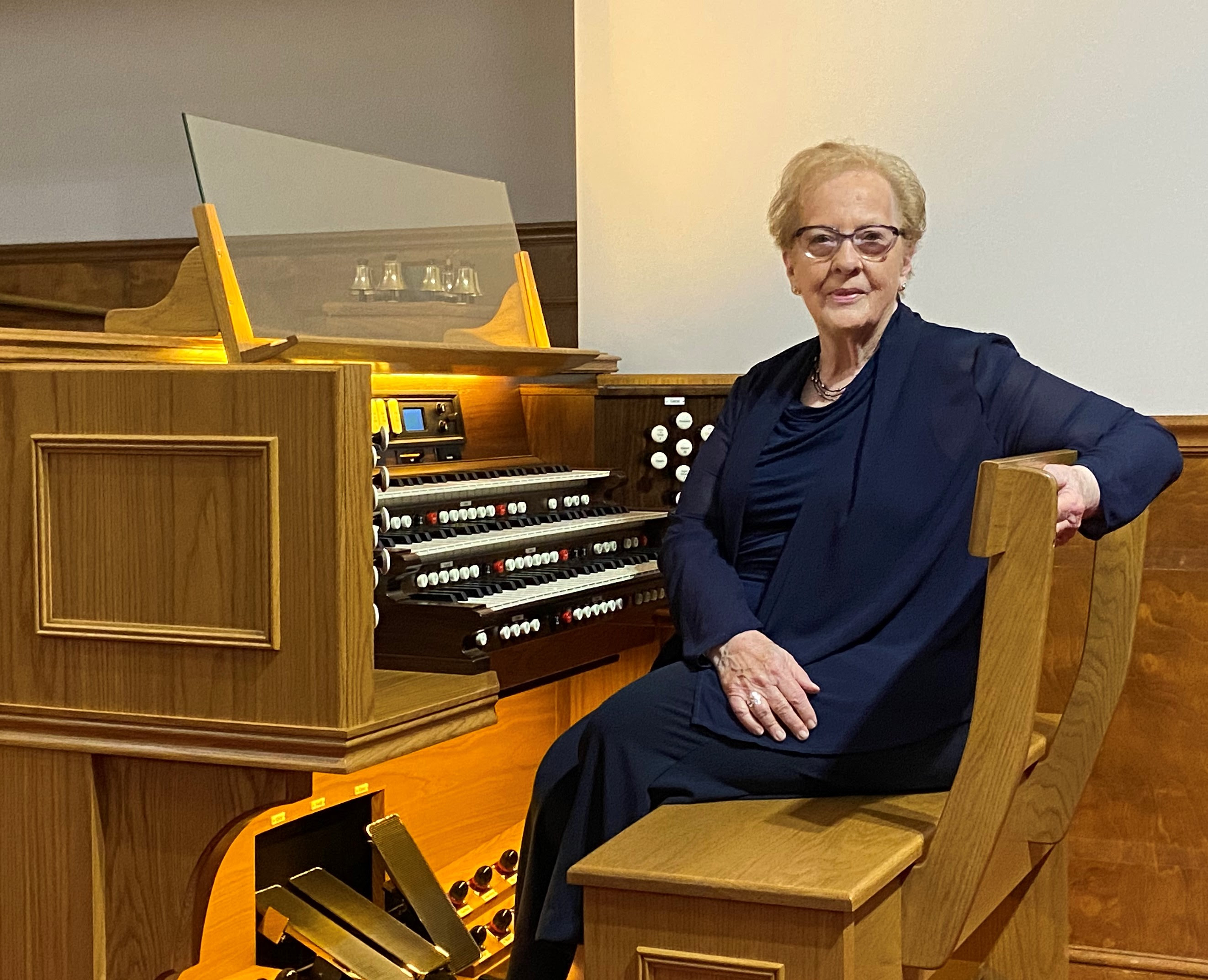 Paid Newsletter Advertisement
---
Chapter Events 2020-2021
October 11, 7PM, zoom meeting, "COVID Composition and Pandemic Publishing", Roberta Rowland-Raybold, presenter
November 15, 7PM, zoom meeting, "Quality of Life in Older Adult Choral Singers", Judith Nichols, presenter
December – no meeting,
January – Date TBA, "Composing 101:  Chapter composers lead a discussion on the art of composing", in-person meeting hopefully
February 14, 4PM, – Deux Voix, a concert of music for trumpet and organ, St. Matthew's Lutheran Church, 612 South College Road, in-person concert hopefully, sponsored by St. Matthews in celebration of the new additions to the existing Austin pipe organ
March – no meeting
April – Date TBA, Anthem reading session for the liturgical year presented by chapter members, in-person meeting hopefully
May 23, 5PM, Chelsea Chen, organ, First Presbyterian Church, 125 South Third Street, in-person concert hopefully
---
Local Events
Click on the following links for the most current concert information!
Many concerts have been cancelled or postponed. Please check with each organization directly.
Beckwith Recital Hall, UNCW: http://uncw.edu/music/events/events-calendar.html
Wilson Center, CFCC: http://cfcc.edu/capefearstage/tickets-and-events/
Kenan Auditorium, UNCW: https://uncw.edu/arts/venues/kenan/calendar.html
Kenan Chapel, Landfall: http://kenanchapel.com/calendar
Thalian Hall: http://www.thalianhall.org/events#map
Church Concerts
First Presbyterian: http://www.firstonthird.org/music/music-at-first/
St. Andrews-Covenant Presbyterian: https://musiconmarket.org/upcoming-performances/
St. Paul's Episcopal Church: http://spechurch.com/MUSIC/concerts.html
A limited number of in-person seating is available for the Oct. 9 concert.  Click on the following link for more information and to secure a ticket. https://spechurch.com/event/save-the-date-2020-2021-live-streaming-organ-recital-series/
Membership
Membership in the Wilmington AGO is open to all who possess a love of organ and choral music. For more information on becoming a member, please contact Justin Smith, Treasurer, at email.  You may also join online by visiting https://www.agohq.org/oncard-login/.
Placement
Organist (alternating Sundays), St. Mary Episcopal-Lutheran Church
Burgaw, NC
St. Mary's Episcopal-Lutheran in Burgaw is in need of a part-time organist to alternate with current organist. Pay is $125 per Sunday. One service at 11:00. Contact number is (910)604-1165.
Thank you,
Jennings Trawick
---
Pianist, Chinquapin Presbyterian Church
Chinquapin, NC
Chinquapin Presbyterian Church in Chinquapin is in need of a pianist.  If you have any suggestions or for further information, please contact Pastor Charles Smiley at Email.
————————–
Pianist, Caswell Presbyterian Church
Atkinson, NC
Caswell PC in Atkinson is in need of a pianist.  If you have any suggestions or for further information, please contact Certified Ruling Elder Randa Scott at Email.
---
Organist, First Baptist Church
Whiteville, North Carolina
First Baptist Church in Whiteville, NC is searching for a part-time organist. Our present organist is retiring (for the second time). There is one Sunday service at 11:00 a.m., one Wednesday evening choir rehearsal each week, and two to six occasional services (i.e. Advent Service, Christmas Eve, Maundy Thursday, etc.) The organ is a two manual, eighteen rank Schantz. The church is traditional in worship style, following the Revised Common Lectionary. Repertoire for the choir is eclectic, including classics, traditional anthems, spirituals and contemporary anthems. The salary is negotiable based on experience. A full job description is available on request. Interested organists may contact Eddie Fort, Minister of Music efort@fbcwhiteville.com or (910) 642-2139.
————————–
Director of Music, Messiah Lutheran Church (LCMS)
Wilmington, North Carolina
We are in search for our next, qualified, Director of Music. Position will be open July 7.
The church has a talented, dedicated 20-voice choir, singing September-May.
Sunday service is 9:30-10:40, with special services during Lent, Easter and Christmas Eve. The Pastor is young, creative, energetic and easy to work with.
Hours average 10-15 per week. Responsibilities include:
Accompanying choir and congregation on organ (Rodgers) and piano (acoustic and keyboard), conducting choir while accompanying.
Choosing weekly congregational hymns, choir anthems and special music based on main point for each Sunday.
Weekly choir rehearsals September – May. Arranging for special music during the summer months.
Working with musicians (one church member is a professional flutist with the Wilmington Symphony); provide music for weddings and funerals (for additional fee).
Applicants should have a Bachelor's degree in music, at least 5 years experience with church music and be Christian minded. Equivalent experience can be substituted in lieu of formal education.
Salary $16,000-$20,000, depending on experience.
Mission for the Director of Music: To create a music experience that transcends.
Please email your resume to: Email, or call 910.791.7040.
Job Description
Title: Director of Music
Mission of Worship Services: To lead people into a growing relationship with Jesus Christ by creating an environment where those attending are led to
worship, challenged to connect, and encouraged to embrace the principles and values of God's Word.
Mission of Music: To lead people into a growing relationship with Jesus Christ by creating music that connects with everyone who attends (insiders as well as outsiders), and leads them to a different place emotionally and spiritually than they were in before they attended.
One Sentence Job Description: To create a music experience that transcends.
Accountable to: Pastor
Responsibilities
1. Lead and facilitate music and musical leadership for all worship services.
2. Direct, accompany, and lead choir, including all rehearsals.
3. Direct and lead all instruments and soloists for all worship services.
4. Seek participation in the music ministry of the church by recruiting and organizing instrumentalists, vocalists, and choir members.
5. Consult with the Pastor to plan themes for all worship services, especially for hymn selection and scheduling/selection of special music. Regular meetings with Pastor.
6. Ensure accurate information is printed in the worship bulletin and other printed materials.
7. Ensure music library and all music resources are organized and well-maintained.  Purchase new materials as required.
8. Ensure the proper maintenance of musical instruments, keeping them in good playing condition. Manage relationships with external service providers such as piano tuners and organ technicians.
9. Monitor copyright restrictions and ensure appropriate licensing is maintained.
10. Work with the Pastor and others to drive innovation in the congregation's music ministry, seeking out new and alternative worship styles and formats. Participate in continuing education opportunities to gain new ideas and expertise.
11. Budget for music ministry in annual church budget. Manage expenses to the approved budget.
12. Absences for accepted personal leave or illness are handled as far in advance as possible. Handle the scheduling and coordination of required substitutes.
13. Schedules substitute when personal leave is taken, handles requirements for substitute to practice/perform, and ensures substitute has required resources and is ready for the worship service.
Qualifications:
1. Accomplished organist, pianist, with choral group experience.
2. Expert knowledge of music selections and styles of music for the music ministry.
3. Ability to create unique worship services around music and themes; incorporates culture for relevancy.
4. Instrumental skills and ability to improvise are desired.
5. Seeks to expand and excel with music in the church.
6. Encourager, casts vision for volunteers, and thrives in a team environment.
7. Ability to work with multiple age groups, from elementary school children to adults.
8. Leader with organizational skills. Excellent personal communication skills (written, verbal, and listening) are essential.
9. Bachelor's degree with a music major or minor. Equivalent experience and knowledge can be substituted in lieu of this educational requirement.
Personal Characteristics
1. A relationship with Jesus Christ.
2. A passion for music excellence.
3. A visionary for the role music plays in worship environments and those who attend.
Compensation: Compensation commensurate with experience.
——————————————————————————-
Certification
For more information about certification, please visit http://www.agohq.org/certification or contact the Dean at Email.
Contact Us
Dean: Gregory Gore Email
Subdean and Program Coordinator: John Sullivan – Email
Secretary: Open
Treasurer and Membership Coordinator: Justin Smith – Email
Member at Large (2021): Doug Spivey – Email
Member at Large (2022): Angela Burns — Email
Member at Large (2023): Martha Hayes – Email
Links
AGO Southeast Region Facebook Page: https://www.facebook.com/pg/AGOSoutheast
AGO National Headquarters: http://www.agohq.org
Music at First: http://www.firstonthird.org/music/music-at-first/
Music Events at UNCW: https://events.uncw.edu/MasterCalendar/MasterCalendar.aspx
Wilmington Symphony Orchestra: http://wilmingtonsymphony.org/