Message from the Dean
Greetings from the Salisbury chapter.  The mission of the American Guild of Organists (AGO) is to foster a thriving community of musicians who share their knowledge and inspire passion for the organ.  The AGO is the National professional association serving the organ, choral and sacred music fields.  Chartered in 1896, the AGO now serves over 15,000 members.  Our membership here in Salisbury includes musicians from a large geographic area, including the entire Eastern Shore of Maryland and parts of central Maryland.  We meet for dinner and programs several times per year, and also sponsor many special projects including members' recitals, organ restorations, youth choral festivals and hurricane relief. This is a great place to live, work and make music! Join us, or let us know when you visit.
Susan Zimmer, Dean
Local Events



UPCOMING CONCERTS/EVENTS: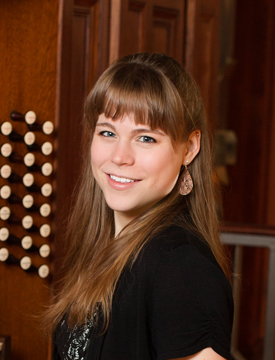 2016 National Organ Competition Winner, Katelyn Emerson to Appear in Concert:  Katelyn Emerson, the first place winner in the 2016 American Guild of Organists National Young Artists Competition will appear in concert at St. Peter's Episcopal Church, Salisbury, Maryland, Sunday afternoon, September 23, at 4:00 PM.  Katelyn is the Associate Organist and Choirmaster at the Church of the Advent, Boston, MA.  The Journal of American Organ Building wrote upon hearing her in concert, "Katelyn Emerson's demonstration of the Mother Church organ [Boston, MA] really blew us away.  Not in the least afraid of this 242-rank instrument, she commanded every bit of it with a careful ear and sense of musicality that puts her at the top of recitalists performing today."  You can experience some of this extremely gifted performer at http://www.concertorganists.com/artists/katelyn-emerson/.  Katelyn will be performing on the newly installed English Anglican Organ of St. Peters Episcopal Church, 115 St. Peter's Street, Salisbury, Maryland, 21801, 61 Ranks, 3 Manuals, 5 Divisions.  Specifications are listed below.
Newsletter

Salisbury Chapter Members

hip
Gregory Arment
Janice Boettger
Kenneth Brown
Christopher Engel
Dr. William M. Folger
Matthew Gillis
Shirley Hailey
Anne G. Hastings
Catherine C. Huey
Raymond L. Jackson
Arthur Leiby
Dr. Jay H. Miller
Thomas Shores
Dr. Michael Stefanek
Jeffrey Todd
June R. Todd
Veronica Tomanek
Gerry Wood
Robert E. Young
Susan E. Zimmer, SPC

Placement
Send job listings for the Salisbury Guild to Robert Young.  Employers and job seekers are invited to post and search listings of available positions on the Guild's National Website.
Presbyterian Church, Easton, Maryland.  Organ/Piano position for Chancel Choir, Handbell Choir and worship.  Reports to the Music Director.  30 Rank Moller, Steinway A–6'1″, Kurtweil–Mark 12 Keyboard.  Contact Barbara Hoehn at pceaston@goeaston.net.
Certification
Any Salisbury Chapter AGO member who presently holds any AGO degrees, please let the webmaster know, so your AGO degree can be placed next to your name in the Chapter Membership List.
Contact Us
CHAPTER OFFICERS FOR 2016-2018

DEAN AND NEWSLETTER EDITOR: Susan E. Zimmer (W) 410-749-5792 (H) 410-677-0301 (FAX) 410-677-0301
E-Mail ssz749@yahoo.com

TREASURER: Thomas E. Shores (H) 410-968-1633

SECRETARY AND WEBMASTER: Robert E. Young
Phone 410-713-2407, E-Mail Robertedwin02@gmail.com
Links
Websites from Our Members Churches/Employers
Antioch United Methodist Church, Princess Anne, MD, Janice Boettger, Organist
Asbury United Methodist, Crisfield, MD, Thomas Shores, Director/Organist
Asbury United Methodist, Salisbury, MD, Michael Stefanek, Director of Music Ministries
Atlantic United Methodist Church, Ocean City, June Todd, Director of Music
Buckingham Presbyterian Church, Berlin, MD, Matthew Gillis, Choir Director/Organist
Cathedral of the Incarnation, Baltimore, MD, Ken Brown, Canon for Music and Worship
First Church of Christ Scientist, Easton, MD, Jeffrey Todd, Soloist
Holy Name of Jesus Roman Catholic Church, Pocomoke, MD, Catherine Huey, Organist
St. Albans Episcopal Church, Veronica Tomanek, Music Director/Organist
St. Francis de Sales Parish/Holy Redeemer, Salisbury, MD, Greg Arment
St. Pauls by the Sea, Ocean City, Shirley Toms Hailey, Organist/Director
St. Peters Episcopal Church, Salisbury, MD, Robert Young, Organist/Choir Director
Salisbury University Music Department, Bill Folger, Music Department Chair
Wicomico Presbyterian, Salisbury, MD , Susan Zimmer, Director/Organist
Favorite Music Hotspots and Websites 🙂
AGO National website
Mid-Shore Maryland AGO
Christ Church Cambridge Concert Series
David M. Storey, Organ Builder
Delmarva Public Radio
The Diapason
Lewis & Hitchcock Organ Builders
Longwood Gardens Organ Performances
Mid-Atlantic Symphony
Patrick Murphy Organ Builders
pipedreams.publicradio.org
R. A. Daffer Church Organs: Ruffatti, Rodgers, Johannes, Makin Organs, Ken Brown, VP
Salisbury Symphony Orchestra
www.facebook.com/WithHeartandVoice
Walker Technical Organs, Skinner Organs and Additions
With Heart and Voice Broadcasts